Collection: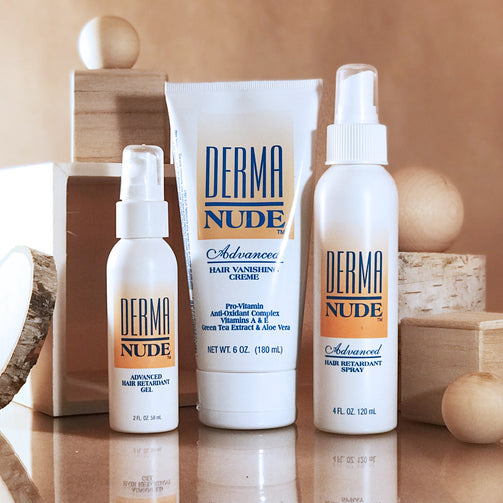 Collection:
DermaNude Body and Facial Hair Remover & Growth Inhibitors
DermaNude Body and Facial Hair Remover & Growth Inhibitors
Regular price

$123.85

Sale price

$112.95
Say goodbye to hair for good – safely remove hair to the root in less than 10 minutes without the need for shaving, tweezers, waxing, or laser hair removal. Once hair is gone, hair inhibitors help to help to slow and stop hair growth naturally on the face and spray on the body with continued daily use.
Painless hair removal is no myth. That means no irritation - whether it's your scalp, facial hair, eyebrows, beard, upper lip, chin, neck, chest, abdomen, arms, underarms, hands, bikini line, back, shoulders, legs, feet, or any other area with unwanted body hair.
How to use
Hair Remover
Because our skin is as unique as we are, we highly recommend first patch testing each new area (face, legs, chest, back, etc.) as each area is different and timing will vary. Caution is advised when using around the face, scalp, neck, underarm, and private areas.
To patch test, begin by using a plastic spatula or similar smooth-edged tool to apply a thin layer of cream on a small area of the skin.
Minute by minute, wipe away an edge of the test patch with a dry tissue or cloth in the opposite direction of hair growth, testing for hair release and noting the timing of your preferred results. Hair should remove easily with correct timing.
Most results occur within 2 to 9 minutes but a tingling sensation will inform you that it's time to remove, wiping with a dry cloth or tissue in the opposite direction of hair growth.
Once hair is removed, rinse the area with cool water and pat dry with a soft towel. DO NOT wash with soap as perfumes and fragrances may cause irritation.
Apply the cream to the remaining area for the amount of time noted, repeating the patch testing process for each additional area with unwanted hair. Do not reuse on an area within the same 24-hour period.
Hair Inhibitor Gel and Spray
Using your fingers for the face or hands for the body, gently massage a thin layer of the hair inhibitor onto bare, fresh skin, allowing it to absorb completely.
Begin by using at least twice a day, re-applying after bathing or washing.
Hair growth should gradually slow and eventually stop completely with continued daily applications.
Most results should be seen within one to four months but because our skin is as unique as we are, results will vary. This means coarse hair such as facial beards and leg hair may take longer.
Skin will remain hair free for as long as single daily applications continue.